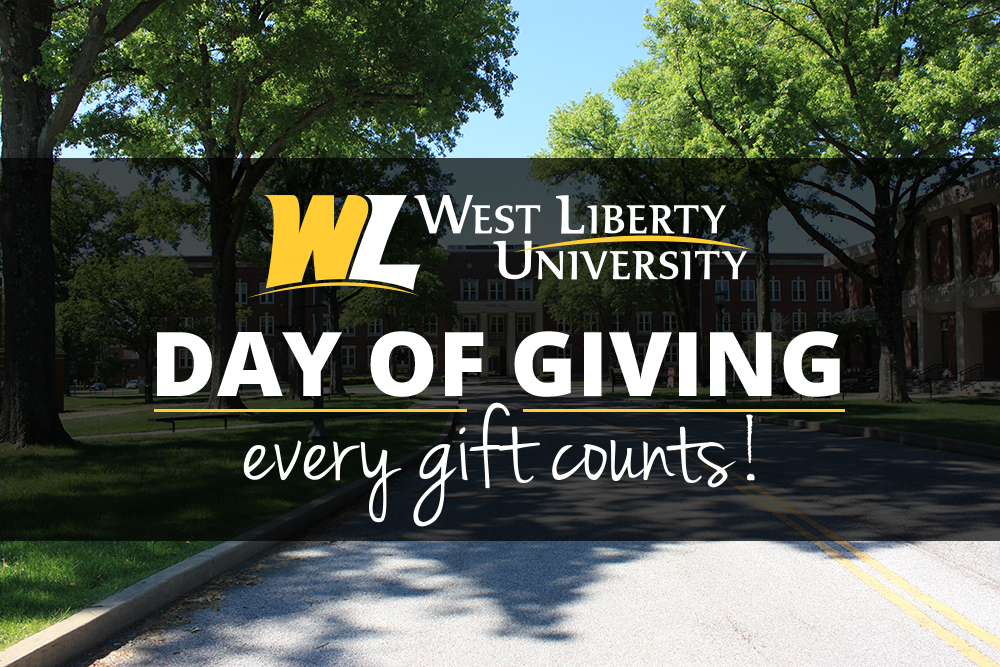 March 29, 2018
On March 29th we celebrate Founder's Day and West Liberty University's 2nd annual Day of Giving!
This inspiring 24-hour giving challenge brings together WLU alumni, staff, students, and friends to show their support for West Liberty! Donations help fund the WLU Foundation Scholarship Program and a variety of projects & needs in every academic college — plus athletics.
Help us reach our goal of $50K in just 1 day!
There are participation prizes — and our generous donor, Main Street Bank, will match dollar for dollar when we hit $15,000! So tell your friends, share on social media and please join us.
Thank you to our Day of Giving Donors!
Stacy & Tanner Russell
Andrea Puga '17
Aaron L. Kuhn '13
Melanie Ann Donofe '88
Ryan A. Brown '12
Celia A. Ptaszek '86
E. Alex '82 & Valerie '87 Paris
Tammi Secrist
S. Michael Turrentine
Shari Beckett
Lynn Ullom '85
Stephanie North
Gregory Chase
Tasha Taylor
Catherine Monteroso
Betsey Alden '61
Holly M. Hall
Noah Mull
Travis P. Hinkle '07
Gaby Barbosa
Lourdes Karas
Samantha C. Wilson '12
Matthew Harder
Kimberly Lemley
Connie McVicar
Regina DeFelice '80
Fred Kinder '68
Linda Cowan
Linda Hone '70
Robert Dobkin
Scott A. Cook '89
Gerard NeCastro
Gil Ullom '76
Beth Weaver '85
Moonjung Kang
Stephen Greiner
Michelle L. Stack
Brenda M. King '81
Andrew Holden '17
John P. McCullough
Thomas A. Cervone '75
Karen Peterson '63
Paul & Margo Howlett
Jared C. Thompson '09
Whitney Inkster
Luke Tacosik '14
Diana Harto
Natalie A. Simich '08
Stephen Richards
Amy J. Baccelliere '07
Mary Ann Edwards
Timothy A. Rodsky '71
Jason Koegler
Miriam Douglas
Jeremy R. West '99
Herb '89 & Ashlea '04 Minch
Jane Costanzo '84
Kristen '06 & Chris '11 Cox
Sara A. Sweeney '06
Joe Carey '91
Sydney Longworth '17
Daniel & Deborah Joseph '75
Jason Coleman
Jeremy Larance
Vince Monseau '62
Alfred R. de Jaager
Ron Witt '92
Robert J. DiCiccio '73
Charles R. Annett '66
Ginni Findley '03
Erika Weidner
Cindy Fluharty
Joanne McConnell '76
Evan K. Newman '15
John William Hoppers '63
Katrina Hyde
Sherri A. Mason
Lindsey A. Bugaj '09
Kathleen Wack
Joshua C. Benyo '14
Molly Kopa '16
Rachael E. Kirchner '14
Carol Pangilinan
Johnny '09 & Katrina '08 Bonar
Debbie Heinzeroth
Russell Dunkin
Bruce & Donna Waugh '65 Berlage
Pamela S. Hostutler
Lynne Exley
Dreama Bush
Kyle & Katie Cooper
Karl Bramer
Michelle L. Panepucci
John P. Bradshaw '98
David Croft '89
Rhonda J. Tysk '02
Angela Zambito Hill
Jill Burns
Clinton Barr
Michele R. Sweeney
Janet L. Honecker
Jill I. Murray '12
Marcella Snyder