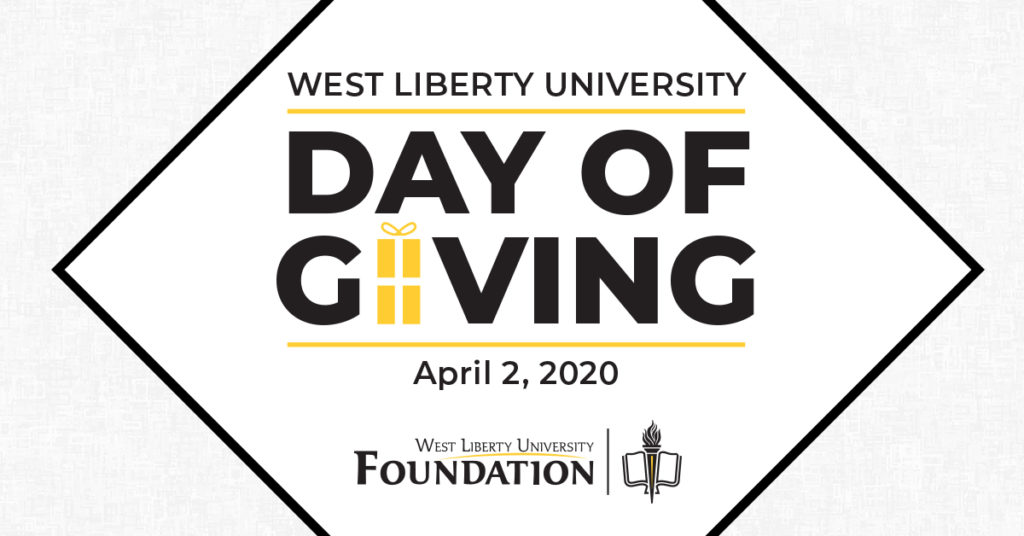 On April 2 we celebrate West Liberty University's 4th annual Day of Giving! This inspiring 24-hour giving challenge brings together WLU alumni, staff, students, and friends to show their support for West Liberty University! 
Help us raise $100K in just one day!
Matching Sponsors
Main Street Bank will match the first $15,000 overall! 
College of Arts and Communication: Pete Holloway $1,000
Gary E. West College of Business: Brad Blair $5,000
College of Education and Human Performance: Dave Beck $5,000  
College of Liberal Arts: David Javersak $1,000
College of Sciences: Stephen Greiner $1,000
Graduate Education: Brian Crawford $1,000
Center for Arts & Education: Stephen Greiner $500
Greek Life: Theta Xi $500
Speech Pathology and Audiology: Jim & Carol Frum $1,000
Theatre Program: Tom Cervone
Acrobatics and Tumbling: Anissa & Danny Anderson $2,000
Baseball: John McCullough $500
Men's Basketball: Janet Loew & Robert Cooper $1,000
Men's Basketball: Janet Honecker $2,000
Women's Basketball: Don & Lori Nickerson $1,000
Women's Basketball: John McCullough $1,000
Cross-Country and Track & Field: John McCullough $1,000
Football: Lance LaFollette $1,000
Women's Golf: Chris Muroski $500
Women's Golf: Janet Honecker $2,000
Softball: David Cohen $1,000
Softball: John McCullough: $500
Men's Tennis: John McCullough $500
Women's Tennis: John McCullough $500
Volleyball: John McCullough $1,000