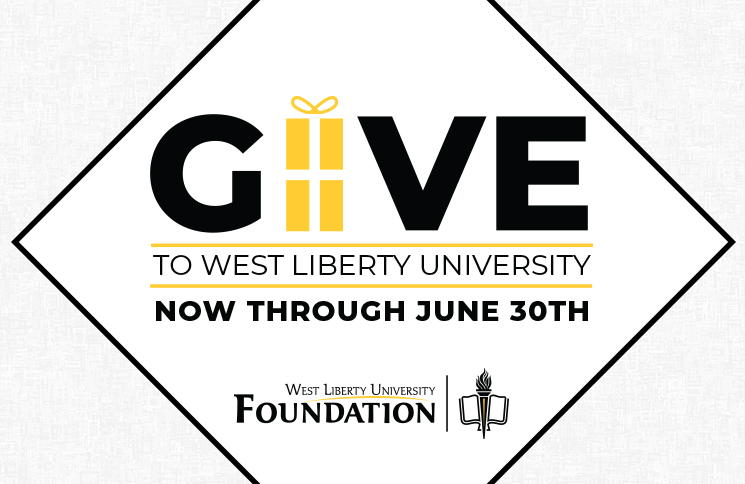 Due to the current health crisis and concern for our West Liberty University community, the WLU Foundation has extended the Day of Giving April 2 until June 30, 2020! For more information on the WLU Foundation and COVID-19, click here for a message from WLU Foundation Executive Director, Angela Zambito Hill. 
This extended season of giving brings together WLU alumni, staff, students, and friends to show their support for West Liberty University! 
Help us reach our $100,000 goal!
Matching Sponsors
Main Street Bank will match the first $15,000 overall! 
College of Arts and Communication: Pete Holloway $1,000
Gary E. West College of Business: Brad Blair $5,000
College of Education and Human Performance: Barbara Beck Scholarship $5,000  
College of Liberal Arts: David Javersak $1,000
College of Sciences: Stephen Greiner $1,000
Community University: WLU Foundation $500
Center for Arts & Education: Stephen Greiner $500
Center for Arts & Education: MaryLu Hutchins $500
Dental Hygiene: WLU Foundation $500
Graduate Studies: Brian Crawford $1,000
Greek Life: Theta Xi Alumni $1,000
Kenneth B. McMillen Fund: John Hoppers $1,000
Online Learning: WLU Foundation $500
Speech Pathology and Audiology: Jim & Carol Frum $1,000
Theatre Program: Tom Cervone $1,500
Acrobatics and Tumbling: Anissa & Danny Anderson $2,000
Baseball: John McCullough $500
Men's Basketball: Janet Loew & Robert Cooper $1,000
Men's Basketball: Janet Honecker $2,000
Men's Basketball: Al Roszczyk $7,500
Women's Basketball: Don & Lori Nickerson $1,000
Women's Basketball: John McCullough $1,000
Cross-Country and Track & Field: John McCullough $1,000
Football: Lance LaFollette $1,000
Men's Golf: WLU Foundation $500
Women's Golf: Chris Muroski $500
Women's Golf: Janet Honecker $2,000
Softball: David Cohen $1,000
Softball: John McCullough: $500
Men's Soccer: Ron Matella $1,000
Women's Soccer: WLU Foundation $500
Men's Tennis: John McCullough $500
Women's Tennis: John McCullough $500
Wrestling: Vince Monseau $1,000
Wrestling: John Craig $1,500
Volleyball: John McCullough $1,000