Professor Hughes is remembered fondly by countless former students, colleagues, and friends. Dr. Raymond Grove Hughes was born on May 29, 1900 in southwestern Pennsylvania. As a child, Hughes contracted polio which left him unable to walk, but he never let his physical challenges prevent him from pursuing a fulfilling life. Professor Hughes's teaching career at West Liberty spanned from 1931 until his retirement in 1970. At West Liberty, Dr. Hughes advised several fraternities, performed with the Hilltop Players, helped students who were struggling to pay tuition, and brought students along on his many travels.
Dr. Robert H. Sykes (class of 1955), one of Dr. Hughes's former students and eventual colleagues, remembered Doc in a 1981 biography, Invincible Invalid. Dr. Sykes first met Dr. Hughes when Sykes was a student at West Liberty in the early fifties. Sykes shared many stories of Dr. Hughes, but one that really exemplifies Dr. Hughes's generosity is Sykes's own personal tale of Dr. Hughes sending him $100 (which was a significant sum in the 1950s) to help get him through his final semester of graduate school. Sykes did not ask for help, but Dr. Hughes sensed his need from their letters and told Sykes "I'll gamble this on your future."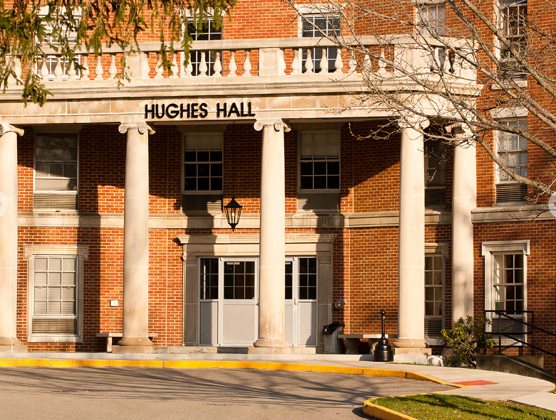 Raymond G. Hughes Memorial Endowment
Another former student and his wife, E. Kent '61 and Barbara Robinson, endowed a fund in his memory, the Raymond G. Hughes Memorial Endowment, which provides general funds in support of the study of English at West Liberty, including the E. Kent & Barbara Culler Robinson Writing Center, the Intensive English Program, Department of Humanities Scholarships and graduate assistant stipends.
Although Kent graduated with a B.S. in Chemistry, he says, "I attribute much of my career success in the sciences, engineering and business to the communications skills in written and spoken English that Dr. Hughes and his colleague emphasized during my years at West Liberty." Indeed, during Dr. Hughes's nearly 40 years at West Liberty, nearly every student would have taken one of his courses in grammar, composition, speech, journalism, or literature.
Hughes Lecture Series
The Hughes Lecture Series began in the 1970s and is named after Dr. Hughes. His generous endowment gift established this fund managed by the West Liberty University Foundation. Thanks to this fund, the series has brought a wide range of authors and speakers to WLU, including: Dr. Ralph Abernathy, confidant of Dr. Martin Luther King, Jr.; Eugene McCarthy, U. S. Senator and presidential candidate in 1968; and John Simon, noted film critic and West Virginia writer and NASA scientist Homer Hickam.
The most recent guest lecturer was best-selling author Jeannette Walls who spoke to a standing room only crowd of more than 550 people in March 2018. Walls is the author of The Glass Castle, The Silver Star, and Half Broke Horses. In addition to the public lecture, Walls also held a book signing and met with students in an English class to discuss writing. You can watch the recording of her lecture here.