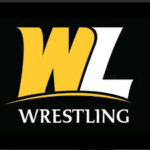 West Liberty University Wrestling Campaign
Secure your legacy as a part of Hilltopper Wrestling with a gift to the WLU Wrestling Campaign! In appreciation of your generosity, the following donor recognition opportunities are available: 
Nameplate on a new WLU Wrestling chair ($300) 
Nameplate on a locker ($500) 
Nameplate on a new stationary bike ($800) 
WLU Wrestling Vision Statement
"We will push for the top academically, athletically and socially providing everyone a first class experience! We are family, that's what makes us Hilltoppers! – Head Coach Danny Irwin
Finishing the job!
Thanks to the generous support of our alumni and friends, the West Liberty University Wrestling facilities have been extensively renovated and improved. These projects have ensured that each student-athlete has a first-class experience as a member of the WLU Wrestling team. Your donations will finish the job, providing funds for an improved hallway with displays recognizing Hilltopper Wrestling greats, as well as additional programmatic support.