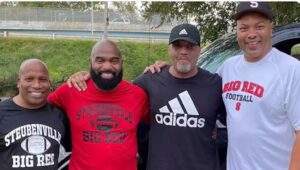 WEST LIBERTY, W.Va., July 5, 2022 — Just what does a college education mean for those dreaming of success? Everything — agree four former athletes who left their mark on the Steubenville Big Red and the West Liberty University Hilltopper Athletics.
"We are proud graduates of Steubenville High School, who all went on to attend West Liberty University. My friends John Blangor, Bryan Bunch, Neal Hudson, and I have been wanting to give back to our community for a long time. After a lot of thought, planning, and prayers, we decided to establish a scholarship to send students from Steubenville High School to West Liberty University," explained Clifton Spinner, a 1987 alumnus of WLU and current resident of Columbus, Ohio.
In 2022, John Blangor, Bryan Bunch, Neal Hudson, and Clifton Spinner established this scholarship for the financial benefit of students from Steubenville High School. The four men grew up together in Steubenville and have been friends since the third grade. They attended Steubenville High School, played football and wrestled together.
After graduating high school, they moved on to West Liberty together. Bunch was awarded a wrestling scholarship, and had a successful athletic career as a 3-time All American. He was inducted into the WLU Athletic Hall of Fame in 2014.
Blangor, who was his roommate, also wrestled and was named an All American. Spinner and Hudson were roommates, and both played football.
Spinner was fortunate enough to have a scholarship. Hudson completed his freshman year, then, in 1985, made the difficult decision to join the United States Air Force due to financial challenges that made college out of reach for him.
Hudson's story remains an inspiration to the entire group, who all went on to pursue successful careers. All of these former Steubenville residents have a passion for helping kids from Steubenville High School pursue higher learning at WLU.
"It's all about advancing opportunities for these students. Our parents instilled Christian values and encouraged us to always keep God first. It is these values and many prayers that have inspired us to pay it forward," Spinner explained.
"West Liberty is a special place to each of them and they found inspirational mentors like legendary Head Coach Vince Monseau. Academically, all majored in Criminal Justice. Bryan and John joined Clifton in becoming Criminal Justice majors because there were good job opportunities available in the field," explained Angie Zambito-Hill, president of the WLU Foundation which manages and will distribute the scholarship fund.
Bunch went on to work as a correctional officer for 25 years and was transferred all over the country while working for the Federal Bureau of Prison. Blangor also worked for the Federal Bureau of Prisons for 30 years, retiring as a commander.
Spinner joined the Ohio State Highway Patrol as a Trooper and retired as a commander after a successful 28-year career. He went on to become the director of public safety at Franklin University, and now serves as security chief at Battelle, headquartered in Columbus.
After his career with the U.S. Air Force, Hudson went on to become a manager at a business in Indiana. All of the men remain active working for other organizations since their retirements.
"All four of us believe in the value of education, our community, and our alma mater. We know how important a college degree is and we are looking forward to helping students from our hometown move ahead. But we need others to help make this a reality," Spinner added.
According to Angie Zambito-Hill, the new scholarship must reach at least $25,000 to be endowed at the level that awards to students can begin.
"The goal for this new scholarship effort is to reach at least $25,000 to endow this scholarship and provide perpetual resources to students from Steubenville High School who are enrolling at WLU for many years to come. Donations will allow our students to pursue a degree in higher education," said Zambito-Hill.
"We are seeking other donors to join us in growing this much-needed scholarship. No dollar amount is too small, everything helps. Please feel free to share this information with others via your social media or through other means. Thank you for your support. We truly look forward to making this dream come true," Spinner said.
Scholarship contributions to the WLU Foundation are 100% tax deductible and assist WLU students directly.
To donate safely online please click: wlufoundation.org/give. In the "Special Request Box," please indicate that the donation is for the Blangor, Bunch, Hudson, and Spinner Scholarship or simply BBH&S Scholarship to ensure that the gift is properly registered.
For complete information on the WLU Foundation, please call 304.336.5635. For more information on West Liberty University and financial aid available, please contact westliberty.edu/financial-aid or call the Office of Financial Aid at 304.336.8016.