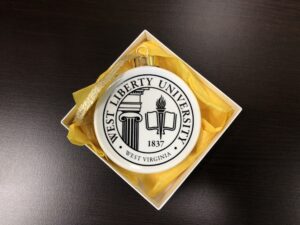 WEST LIBERTY, W.Va., Dec. 8, 2020 — Just in time for end-of-year giving, the WLU Foundation has a powerful matching gift opportunity!
"Our December is for Giving campaign continues, and to sweeten the deal, former WLU Presidents Clyde Campbell, Stephen Greiner, and John McCullough are generously matching the first $11,000 raised this December," explained WLU Foundation Executive Director Angie Zambito-Hill. "We are so grateful to our former presidents for remaining committed to West Liberty University and our wonderful students."
"During the month of December we have limited edition ceramic ornaments to give to our donors giving $100 or more." These ornaments are first-come, first-serve due to the limited nature of the inventory.
The round disc-like ornaments are decorated on both sides with WLU's official seal and were made in East Liverpool, Ohio.
"These ornaments are a perfect gift for alumni and friends and we are mailing them out to you for holiday giving," she said. Orders received by Dec. 18 are expected to arrive in time for Christmas. 
Funds raised will support the following initiatives:
WLU Foundation Scholarship Program, which assists hundreds of students every year 
The Helping Hilltoppers Program, which assists student in additional need due to COVID-19
Greatest need of the University … especially important during these unprecedented times of pandemic.
Please make your gift today by clicking this secure link.