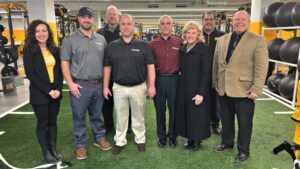 WEST LIBERTY, W.Va. – West Liberty University held a ribbon-cutting ceremony on Saturday to celebrate the completion of the Panhandle Performance Zone strength and conditioning center.
    A significant expansion and transformation of the university's aging weight room, the Panhandle Performance Zone provides the nearly 500 student-athletes on the WLU campus with one of the premier facilities of its kind in the region.
    Saturday's ceremony recognized the Contraguerro family and Panhandle Cleaning and Restoration for their leadership support in making the latest addition to West Liberty's athletic facilities a reality through a significant in-kind contribution.
    Other major donors for the project included Gary and Flip West along with Bucky and Joanne Kopf. Thanks to the generosity of the university's donors and in partnership with the WLU Foundation, the Panhandle Performance Zone was completely privately funded.
    Prior to the ceremony, donors and dignitaries spent some time touring the facility, which has already been put to good use by the Hilltoppers' 20 intercollegiate athletic teams.
    The centerpiece of the Panhandle Performance Zone is an eye-catching 20-yard SporTurf training section, which allows for multiple student-athletes to participate simultaneously in advanced speed, agility and plyometric training.
    The SportTurf section is surrounded by an 18mm Mondo reflex/hybrid response flooring system that supports more than 12,000 pounds of brand-new weights and training equipment.
    Loaded with tons – yes, TONS – of brand-new Troy weight plates, various work stations include 18 Mondo Deck lifting platforms and 16 Stray Dog posterior chain machines. In addition, there are two full sets of Iron Grip dumbbells ranging from 5-130 pounds.
    The ultra-modern Panhandle Performance Zone can accommodate up to 60 student-athletes at the same time, roughly three times the capacity of the antiquated facility it replaced.
    Following the ceremony, the group was introduced to the crowd in attendance at the men's basketball game between the No. 8-ranked Hilltoppers and No. 18 Fairmont State.