WEST LIBERTY, W.Va., March 30, 2022 — West Liberty University Foundation received a generous gift recently that recognizes the legacy of medicine. The Ohio County Medical Society Alliance (OCMSA) contributed $5,000 to the Physician Assistant master's degree program in honor of Doctors' Day 2022.
"In celebration of 80 years of the Alliance, we thought this would also be an appropriate way to honor our local doctors. Physicians know that PAs have become an integral part of the health care team caring for and promoting the well-being of patients. We are happy to help students preparing for this career," said Lynn Comerci, committee member of the OCMSA. Doctors Day is celebrated nationally on March 30.
The OCSMA has long embraced the mission of promoting health education and supporting local organizations, schools and nonprofits. It is made up of physicians' spouses, partners or family members.
"The Foundation is pleased to accept this gift which will be added to the PA Program Scholarship endowment fund started last year by Dr. Howard Shackelford and Dr. Robert Wetzel. The scholarship will be the first of its kind at WLU and assist a worthy student in the near future," said Angie Zambito-Hill, president of the WLU Foundation.
Zambito-Hill added that currently the Foundation has $23,000 in the fund and this gift will grow the fund to the endowment minimum of $25,000 or more thus officially endowing the PA Program Scholarship. 
"This gift is particularly important because it helps us surpass our goal to endow the fund and will enable us to begin awarding scholarships for the next cohort of PA students so we are very grateful," Zambito-Hill said.
OCMSA member Dr. Nahla Khoury suggested the idea of donating at this level to the WLU PA scholarship. Khoury also is an instructor in the WLU PA program and knows first-hand the strength of the program and the difference it has made to the state of West Virginia and beyond.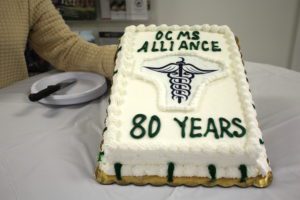 WLU graduates from the PA program are employed all over the United States and serve people in many rural communities, offering health care to those in need.
About 10 years ago, the OCMSA transitioned from an officer-led format to a committee of volunteers. Present committee leaders include Serena Chiu, Lynn Comerci, Donna Glass, Dorrie Jacob, Stephanie Wiley and Khoury.
"The PA Scholarship endowment will grow over time through investment and more contributions, and as it does, we can award more students, so this is a big moment for the Foundation as it adds another scholarship award to our many established funds that offer funding for students attending West Liberty University," added Zambito-Hill.
West Liberty University's Master's in Physician Assistant Studies degree program is a 24-month, year-round course of studies that begins each year in July. Fully accredited by the Accreditation Review Commission on Education for the Physician Assistant, it includes one year of didactic, in-classroom work, and a second year of clinical rotations under the supervision of licensed clinical preceptors.
Featuring a small class size of 18 students, WLU has one of the most affordable programs in the state. Dr. William Childers is the director of the master's degree PA program.
For complete information on the PA program at WLU, please visit westliberty.edu/physician-assistant or call 304-336-5098.