WEST LIBERTY, W.Va., Oct. 18, 2022 — West Liberty University Foundation selected three students this fall to serve as interns as it offers real world experience for students preparing for professional careers in the nonprofit sector.
"The Foundation is pleased to partner with more students to build a culture of philanthropy on campus. This initiative is driven by our strategic planning goal of building up student engagement in philanthropy," said Angela Zambito-Hill, WLU Foundation president, who has led the non-profit foundation since 2016 and is a Certified Fundraising Executive (CFRE).
"These students will learn the skills of fundraising, board development, private sector partnership, communications, event planning, and financial management of a non-profit," she said.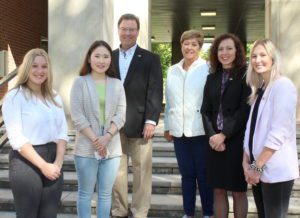 The interns now assisting the WLU Foundation in its daily work include:
Sydney Burkle, a junior marketing major from Wheeling. Burkle is the Lead Development Intern and reports primarily to Zambito-Hill. She also assists with the Hilltopper Athletic Club (HAC), providing support to Kyle Lutz, who serves as WLU Foundation administrative assistant and HAC coordinator. She also serves as Student Government Association (SGA) president.
Oyunbolor Battsogt, a senior finance and accounting major from of Ulaanbaator, Mongolia. Battsogt is the Finance Intern and reports primarily to Ginni Findley, WLU Foundation Finance Administrator and a Certified Nonprofit Accounting Professional (CNPA), who handles much of the accounting and daily financial duties of the organization. Battsogt also serves as treasurer for the WesBanco Student Investment Club and is a leader with the campus Net Impact Chapter.
Samantha Large, a junior, marketing and business administration major from of Elizabeth, Pa. Large is the Development and Social Media Intern and reports to Lutz. She is a member of the Woman for Economic and Leadership Development (WELD) chapter that meets at WLU.
The Foundation just completed one of its biggest events held annually for students, Scholarship Day. This day-long activity includes scholarship students taking the time to write a personal Thank You to each and every donor who provides the valuable support of funding and endowing scholarships.
WLU Foundation Scholarships were established and funded by individuals or organizations to provide an opportunity to WLU students. The WLU Foundation is pleased to manage over 157 scholarship funds.
The West Liberty University Foundation, Inc. was chartered into existence in 1964 and is governed by a volunteer Board of Directors, led by its office staff. It maintains offices on both the West Liberty University campus and in downtown Wheeling. 
Its mission is to raise, invest, and steward private funds to strengthen West Liberty University and to increase opportunity for students of all backgrounds to pursue higher learning. For more information, please visit wlufoundation.org or call 304.336.5635.