WEST LIBERTY, W.Va., May 12, 2023 — West Liberty University Board of Governors named Dr. Tim Borchers as the university's 38th president today during a 9 a.m. board meeting held in historic Shaw Hall.  
"I am pleased to announce that Dr. Borchers was chosen by a unanimous vote and has accepted our offer to become West Liberty University's President. We welcome him to the Hilltop and look forward to introducing him to our students, alumni, donors, friends and the wider community," said Rich Lucas, chairman of the Board of Governors, who also served on the Presidential Search Committee.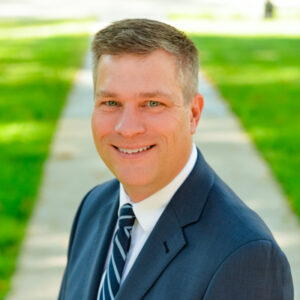 A native of South Dakota, Borchers will assume the presidency on July 1, 2023. Currently, he is vice president for academic affairs at Peru State College, the oldest college in Nebraska with an enrollment of approximately 2,000 students.
"I am humbled and honored to be selected as the next president of West Liberty University. For 187 years, West Liberty has served the state by preparing graduates to be leaders in their communities and professions. I look forward to continuing that work while identifying ways to be innovative and responsive to a changing world," said Borchers, who attended the meeting via Zoom.
President Borchers succeeds Interim President Dr. Cathy Monteroso who has served as president since January 1, 2023.
"I would like to express my thanks to the Search Committee led by Tom Cervone and the AGB Search professionals who assisted us in selecting the next leader," Lucas added. "All four final candidates were strong prospects with years of experience. I am confident that Dr. Borchers will lead West Liberty University into a vibrant future and continue its mission of quality education for all."
Borchers stated that, "The faculty and staff with whom I met during my campus visit were each dedicated to transforming the lives of students and it will be energizing to provide leadership for their work. I'm deeply committed to the mission and vision of West Liberty. Its values of being a caring and affordable university that provides a high-quality education resonates with my beliefs and background."
During his current tenure at Peru State College, the school achieved its highest first-year retention rate and enrolled two of the largest first-year student classes in the past 30 years. He spearheaded the campus migration to new retention software, and added new academic programs and partnerships to prepare Peru State students to meet the workforce needs of the State of Nebraska.
Borchers provided leadership so that Peru State received continuing accreditation status with the Higher Learning Commission in 2022. He also led the assessment of academic and general education programs while providing support to co-curricular assessment efforts.
Prior to his current position, Borchers served as the dean of the College of Arts, Media, and Communication at Minnesota State University Moorhead (MSUM) in Moorhead, Minn., from May 2008 to June 2015.
Before that, he was the founding chair of the Communication Studies Department at MSUM and served as associate dean of the College of Arts and Humanities and the College of Social and Natural Sciences.
Borchers holds both a doctoral and master's degree in communication from Wayne State University in Detroit, and a bachelor's degree in speech communication from the University of Nebraska-Lincoln, where he was inducted into the Phi Beta Kappa Honor Society.
He is the author of the book Persuasion in the Media Age, which is in its fourth edition and co-author of Rhetorical Theory: An Introduction, now in its second edition.
Borchers and his wife, Dr. Susanne Williams, enjoy cooking and participating in outdoor activities. He is a passionate runner, having most recently completed the New York City Marathon in November. They are the parents of one adult son, Oliver.
Borchers and his wife will reside on campus in the president's home known as Colonial Heights."
"Susanne and I look forward to meeting the faculty, staff, students, and alumni and welcoming them to the president's house," Borchers said.
WLU's Presidential Search Committee 2023 was composed of all members of the Board of Governors plus two additional faculty representatives, one dean, three additional staff members, two WLU Foundation members (also alumni), advised by AGB Search.
Also serving as a non-voting, ex-officio member was Dr. Sarah Tucker, chancellor of the West Virginia Higher Education Policy Commission. The WVHEPC is expected to vote and approve Borchers' contract in June.
West Liberty University is West Virginia's oldest public university and offers more than 70 undergraduate majors, plus a growing number of graduate programs, both online and on campus. For more information, please call 1.866.937.8542 (WESTLIB), visit westliberty.edu or follow WLU on social media or westliberty.edu/youtube.