by Maureen Zambito
WEST LIBERTY, W.Va., Sept. 24, 2019 — West Liberty University is relocating its Downtown Center to 1310 Market St. later this week.
"This new space offers a more dynamic space that works well with all we do and it continues our support of the ongoing revitalization evident in downtown Wheeling," said Dr. Stephen Greiner, WLU president.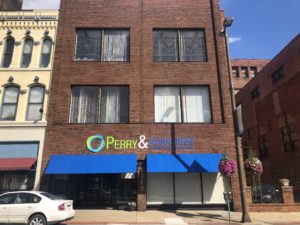 WLU's Downtown Center is home to the WLU Foundation, WLU's broadcasting platform known as Topper Station and other community outreach. It also acts as an off-campus site for prospective students and transfer students to visit and pick up enrollment information.
"Our new location is much larger and is a more appropriate space for all we do. For example, we'll have our own boardroom for foundation meetings and other amenities like a kitchenette. We will also have additional space to allow Topper Station its own studio," said Angie Zambito Hill, who is executive director of WLU's Foundation. "It's also a better space for community events that we are planning."
The move will take place over the next week.
Formerly located on the first floor of the RED Building, 1100 Main Street, the WLU Downtown Center has been operating in the downtown area since January 2018.
"We have enjoyed being a tenant in the RED Building and we are grateful to the Regional Economic Development partnership for working with us over the past few years," she added.
The new location is in a building more than 100 years old that formerly housed the Community Foundation for the Ohio Valley, the Wheeling Chamber of Commerce and Crones men's clothing store. Perry and Associates (CPAs) are now located on the third floor of the building.
Established in 1837, West Liberty University maintains a 290-acre main campus, known as the Hilltop, a satellite campus, located at the Highlands retail park and the Downtown Center.
With more than 70 undergraduate majors, plus a growing number of graduate programs, both online and on campus, students are rewarded with an excellent return on their investment.
Hours for the WLU Downtown Center are 8:30 a.m. – 4:30 p.m., Monday through Friday. For more information, please call the WLU Foundation office at 304.336.5635.