WEST LIBERTY, W.Va., Oct. 13, 2019 — West Liberty University topped its Homecoming Weekend with a festive Opening and Dedication Ceremony for the West Family Athletic Complex and Tim Weaver Memorial Track today.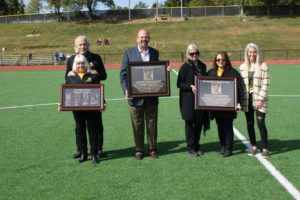 "We are grateful to our friend and major donor Gary and Flip West, who together with donors David and Ann Cuffaro, made this dream a reality. Our students benefit tremendously through their generosity and we look forward to many, many athletic competitions and practices here in this outstanding facility. It is a perfect addition to the Hilltop," said President Stephen Greiner.
Scheduled in conjunction with the Hilltoppers' men's and women's soccer doubleheader against Charleston, the dedication also honored former WLU Track and Cross Country Coach Tim Weaver. Donors David K. and Ann Coffaro made a major contribution to the project in Tim Weaver's memory.
The newest member of West Liberty's athletic facilities lineup made its debut this fall as the state-of-the-art home for WLU's men's and women's soccer, track and cross-country squads. Featuring a fully-lighted artificial turf soccer field surrounded by a full 8-lane all-weather track built to NCAA specifications, the sparkling green jewel immediately took its place among the top multi-purpose venues in the region.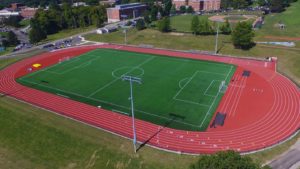 The event got under way with a private donor VIP event, beginning at 11:30 a.m. The public dedication ceremony for the new complex took place at 12:30 p.m. with the soccer doubleheader following.
Coach Sean Regan's WLU men's soccer team kicked off its Mountain East Conference match against the nationally-ranked Golden Eagles at 1 p.m. The Hilltopper women's team, coached by Barry Christmas, took on the UC women at 3:30 p.m. To stay on top all sports news, please visit hilltoppersports.com.