WEST LIBERTY, W.Va., Jan. 29, 2020 — West Liberty University is propping up its International Educational program with the naming of the Rollie Williams International Center and an increase in funding thanks to a generous donor, alumna Kristina "Kris" Williams.
We are pleased to announce that former longtime faculty member Rollie Williams will be honored by this new naming of our international center, located in historic Shotwell Hall. We are grateful to Kris for her foresight and support," said President Stephen Greiner.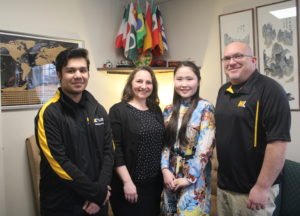 Roland E. "Rollie" Williams taught for 37 years at West Liberty and was Kris Williams' father. Kris Williams also is a member of WLU's Board of Governors where she serves as vice chair.
"I have been working with Kris since last year to look at ways to create a resource for WLU's international program. The Roland E. 'Rollie' Williams International Fund is an endowed fund that will support the international center in perpetuity," said Executive Director of the WLU Foundation Angela Zambito-Hill.
"The Foundation is grateful for this gift that has given our faculty countless opportunities for educational travel and will continue to do so. We are especially pleased that Kris is now willing to fund our international center at a higher level and meet our growing needs in this area," she added.
International faculty travel will continue to be funded and an additional amount of money, equal in dollar value, will now be designated for the general use of the International Program, which has doubled in student enrollment numbers since 2010.
The new gift will allow the Foundation to fund scholarships, equipment, student recruitment and other programmatic needs.
Kris Williams graduated magna cum laude with a degree in Business Administration and a specialization in accounting in 1986. She is now president and chief executive officer of the Federal Home Loan Bank (FHLB) of Des Moines, Iowa, a position she assumed on Jan. 20, 2020 after serving a 15-year career at FHLB Pittsburgh.
When she was a child, the Williams family lived in faculty housing on the West Liberty campus, where her father Rollie served as an associate professor of geography, a position he held until his retirement in 1998.
Professor Williams traveled throughout the world and took WLU students on many international trips. His faculty office was located in Shotwell Hall, making it even more appropriate that this center bears his name.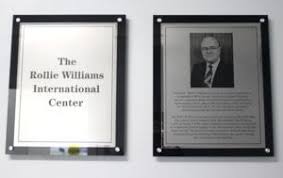 "My father was my biggest hero and I was extremely close to him until he passed in 2004. I am happy to support the international program in this way," Kris Williams said.
The International Center moved to Shotwell Hall last fall because of its growth. It is led by Mia Szabo, who serves as director of international enrollment services and international student advisor. Szabo is assisted by Ryan Glanville, coordinator of international programs and recruiting.
"Ryan is an alumnus and was taught by Rollie Williams," noted Szabo.
The Rollie Williams International Center includes offices for the staff, student lounges for relaxation and study, an international prayer room and a complete kitchen.
"Our international program here at West Liberty has grown by 24.4 percent over the past four years and we are grateful to have the Rollie Williams International Center as a dedicated space for our students," said Szabo.
For more information on the Rollie Williams International Center or to contribute to the fund, please contact the WLU Foundation at 304.336.5635 or visit wlufoundation.org.