WEST LIBERTY, W.Va., July 15, 2020 — The Helping Hilltoppers Scholarship Campaign has resulted in more than $50,000 to assist West Liberty University students affected by the pandemic during the 2020 – 2021 academic year.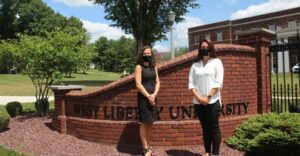 "When we began this effort in May, the WLU Foundation wanted to help the university to continue to be able to provide the quality education that is our mission during this unprecedented time of national emergency. We turned to our donors, friends and alumni and were immediately rewarded with a matching gift. Then another large gift and another. I am so pleased with the response on this campaign. I know it will help many students," said WLU Foundation Executive Director Angela Zambito-Hill.
The WLU Office of Financial Aid will determine the eligibility of students who will benefit from the donations and enrolled students are able to apply for funds by using a simple online form that asks less than 10 questions.
"We wanted to make this simple and to get help to as many students as possible, as quickly as possible," said Director of Financial Aid Katie Cooper, who has been with WLU for 10 years.
Whether it's used for books, childcare, transportation or tuition and fees, the amount of the award will not exceed $500.
"Just being able to alleviate a little bit of the financial stress caused by COVID-19 is a big thing to students. They deserve our help working through the unexpected. These funds allow us to help them reach their goals," Cooper said.
The award will be reflected in the financial aid package of each student receiving the Helping Hilltopper Scholarship, being applied to their account at the beginning of the semester(s).
"It is especially important that students be able to focus on their studies and not worry about affording an education. Funds donated to the Helping Hilltoppers Campaign will help students facing extreme financial challenges due to COVID-19 remain enrolled at West Liberty University. We are very grateful to our donors for making this new scholarship possible," said Zambito-Hill.
To donate to the Helping Hilltoppers Fund or to ask questions, please call the WLU Foundation office at 304-336-5635 or donate online at the secure website: wlufoundation.org/helpwlu.
To apply for the scholarship, please click here. Or you may contact Cooper at katie.cooper@westliberty.edu.