WEST LIBERTY, W.Va., Jan. 20, 2023 — The West Liberty University Foundation Board of Directors recently selected Wheeling resident Betsy Delk to serve as its executive director.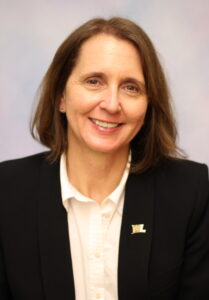 "The WLU Foundation is pleased to welcome Betsy to this leadership role. She is very experienced with boards, fundraising, and with development. We are confident in her ability and feel certain that she will be a good fit for West Liberty University into the future," said John Dolan, chairman of the WLU Foundation Board of Directors.
Delk most recently served as director of Institutional Advancement for the Wheeling Symphony Society and formerly practiced law with Bachmann, Hess, Bachmann & Garden in Wheeling. 
"As a lifelong resident of the Ohio Valley, I know the significant place that West Liberty University holds in our community and region as a center of education, growth and development. I am pleased to join the WLU Foundation and its dedicated board members who support our mission of increasing opportunities for students of all backgrounds to pursue higher learning," said Delk, who began her position on Jan. 16, 2023.
Delk is a graduate of Miami University (Ohio) and the William & Mary College of Law (Va.). She resides in Wheeling with her husband David and has three daughters.  
Delk replaces WLU Foundation President Angie Zambito-Hill who resigned in December.
Other officers serving on the WLU Foundation Board of Directors include: Vice Chairman Dr. Daniel Joseph of Wheeling, Treasurer Russell Dunkin of Wheeling and Secretary Dr. Anissa Anderson of New Martinsville, W.Va.
The WLU Foundation supports the University through the cultivation, investment and stewardship of private funds.
Delk's office is located at the WLU Foundation downtown location, 1100 Main St., Wheeling. For more information, please contact Delk at betsy.delk@westliberty.edu or 304-336-5635.