WEST LIBERTY, W.Va., Feb. 4, 2021 — Despite the roadblocks of the pandemic, West Liberty University today held a ribbon cutting for two new clinical spaces that will increase the public's access to affordable healthcare.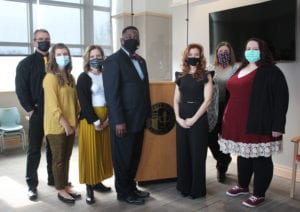 Both a Speech and Hearing Clinic and a Behavioral Health Clinic are now up and running in the Campbell Hall of Health Sciences.
"We are so pleased to announce the opening of these much-needed clinics. It is our hope that the students, under the direction of our highly qualified instructors, will prove to be a benefit to our community," said Dr. W. Franklin Evans, WLU president.
The expansion of the clinical space has been in the works for some time.
"This project, like so many other things, was greatly impacted by the onset of COVID-19, and we are thrilled to finally have a ribbon cutting. The clinics will provide diagnostic and treatment rooms for patients, allowing students and faculty to be directly involved in patient care. This type of learning experience is invaluable for students, as it promotes critical thinking and problem-solving skills," said Dr. Karen Kettler, dean of the College of Sciences.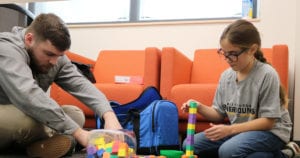 The formerly vacant fourth floor of Campbell Hall of Health Sciences was renovated and furnished to house these two new clinical spaces.
WLU worked with the same Pittsburgh architectural firm (PWWG) that built Campbell Hall, which opened in 2014. The current expansion completes about a third of the space available on the fourth floor.
Students in the Master of Arts in Clinical Psychology degree program, which began in the fall of 2019, are overseen by licensed faculty and will treat the behavioral health clients that visit the clinic.
"We're very excited to be part of the effort to expand mental health care in West Virginia," said Dr. Jessica Collins, professor and director of the behavioral health clinic.
"Opening this clinic not only allows us to provide affordable psychological services to the surrounding communities, it also provides students the opportunity to practice their skills under close supervision before transitioning to internships as they work toward their degrees."
There are five students in the inaugural class of master students, which will graduate in 2022.
This clinic also offers psychological assessment services like testing for attention deficit hyperactivity disorder (ADHD). Teletherapy also is available for those that prefer a virtual appointment.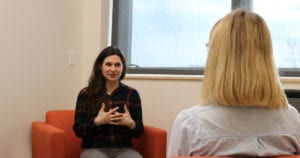 Besides the Behavioral Health Clinic, the expanded Speech and Hearing Clinic is also open to the public.
"We began to offer hearing clinical services nearly two years ago to meet a community need and provide our students with more patient experience, right here on campus. Now we've added speech and language services to our clinic so that we have a complete communication disorders clinic," said Carol Zombotti, assistant professor of Speech Language Pathology.
Clinical services now available include comprehensive hearing assessments and speech and language diagnostic and treatment options for patients of all ages.
"The new clinic is a much more comfortable space for us to serve more clients."
WLU's Speech Pathology and Audiology undergraduate degree program has been educating students since 1975 and WLU is seeking accreditation for its new Master of Speech-Language Pathology degree program with an anticipated start date of fall 2022.
The Speech and Hearing Clinic is open from 8 a.m. – 3 p.m., Monday through Thursday with evening hours by request. Fees are low cost and vary according to service.
The Behavioral Health Clinic is open from 10 a.m. – 6 p.m., Monday through Thursday. Fees for behavioral health visits are offered on a sliding fee basis and are capped at $25.
For more information or to make an appointment for either of the clinics, please call at 304.336.8199 or visit westliberty.edu/college-of-sciences.