WEST LIBERTY, W.Va., Monday, March 22, 2021 — West Liberty University announced a significant gift of $100,000 from WesBanco today. The money will go toward funding the university's first-ever endowed professorship. 
"This is an empowering gift that will strengthen academics in a real way, and I'm very grateful to WesBanco and to President and CEO Todd Clossin for placing trust in our university to deliver a solid return on this investment," said Dr. W. Franklin Evans, WLU president.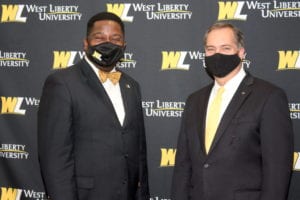 "We are pleased to be able to support the endowment of the Kenneth B. McMillen Distinguished Professorship in American Studies. Dr. Evans' passion for funding faculty positions that expand and strengthen the West Liberty University educational experience is inspiring," Clossin said.
"We are fortunate to have West Liberty University in our community. We all benefit from the quality of their students and we at WesBanco thank Dr. Evans for his leadership," Clossin concluded.
Executive Director of the WLU Foundation Angela Zambito-Hill expressed her thanks for the gift that will be added to the already established Kenneth B. McMillen Fund.
McMillen died in 1985 and his wife Muriel started the fund in her husband's memory. He was an associate professor of Political Sciences from 1946-1980.
"We will soon be able to fund our first-ever faculty position, the Kenneth B. McMillen Distinguished Professorship in American Studies," she said. American Studies includes many subject areas related to history, political science and cultures.
"This gift raises the bar especially for a small state college. It funds something I work for daily, endowment growth. This gift from our friends at WesBanco is uplifting and represents a robust addition to our portfolio of support for the university," she said.
"The McMillen Endowed Professorship brings meaningful recognition to the university and will provide our students a unique opportunity in the state of West Virginia to experience courses in the interdisciplinary field of American Studies under the supervision of a scholar dedicated to study of American culture, history, and politics," said Dr. Jeremy Larance, interim dean of the College of Liberal Arts.
"Our goal is to reach $500,000 in this endowment fund by the end of fiscal year 2023," Zambito-Hill added. "We are looking for additional donors who value Liberal Arts education and American Studies."
The planned professorship means that the university can attract quality applicants and will strengthen the education of students studying the Liberal Arts at WLU.
"Professor McMillen is beloved by our alumni and he is remembered fondly by many," Zambito-Hill said. "The WLU Foundation is thrilled to be able to now make this endowed professorship a reality with WesBanco's gift."
Alumnus and donor John W. Hoppers '63 of Columbus recalls Professor McMillen clearly.
"Current events always had a way of slipping into our class discussions, but that era provided us with plenty of interesting events to discuss. McMillen had a way of imparting knowledge in a painless manner. His tests were comprehensive but fair — if you attended class and read the assignments." 
A special plaque honoring Professor McMillen and major donors to this first-ever endowed position will be installed soon in Elbin Library.
For more information on donating to the McMillen fund, please contact the WLU Foundation at 304.336.5635.